Posted by Skeeter on 5th Apr 2023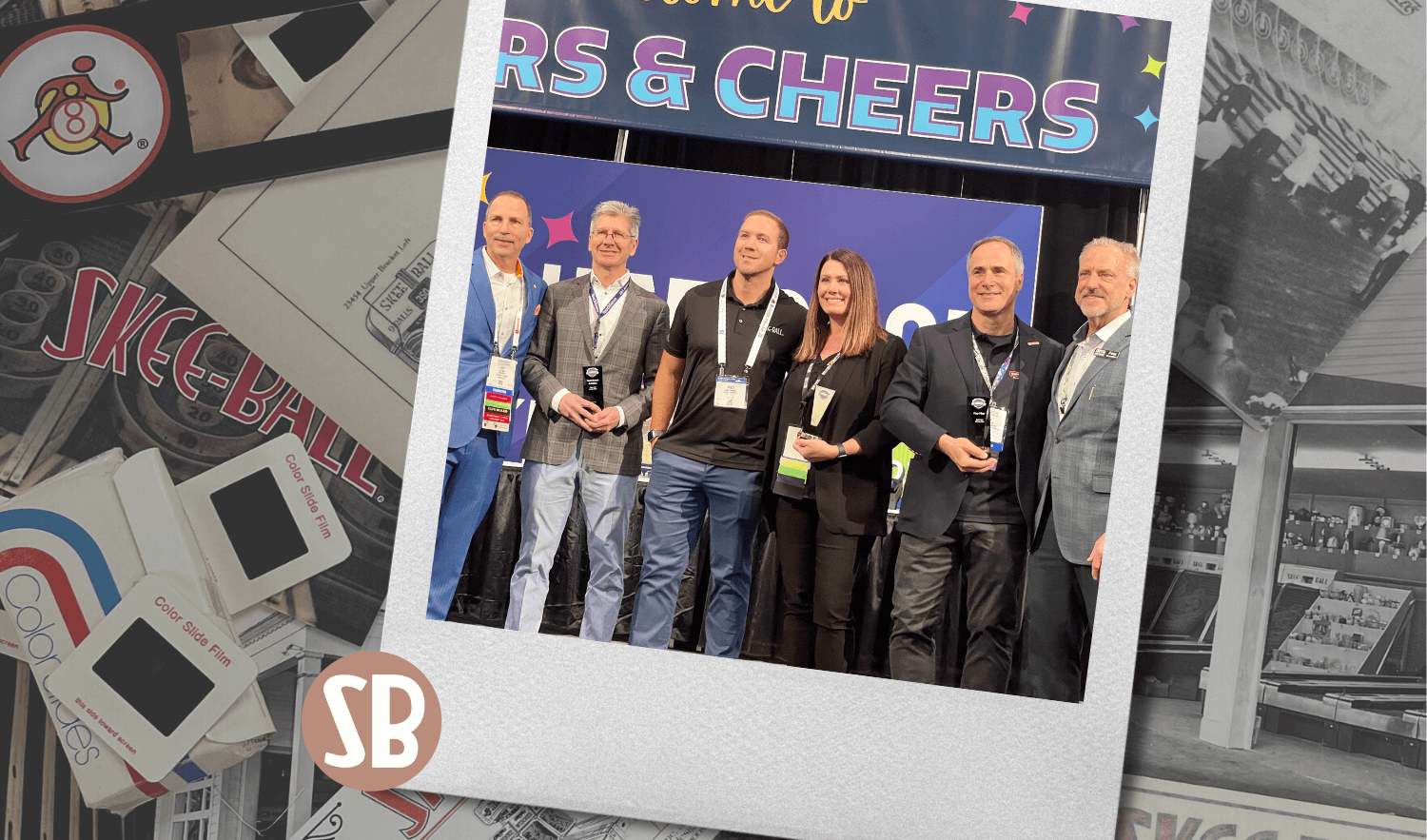 Skee-Ball®, the iconic brand responsible for the first alley roller game invented in 1908, had the honor of being inducted into the inaugural Amusement Industry Hall of fame class on March 29 at Amusement Expo's Beers & Cheers event.
Chosen alongside some of America's favorite brands - like Donkey Kong by Nintendo, Space Invaders by Taito, and Pac-Man by Namco - this recognition by the American Amusement Machine Association (AAMA) is a "cherry on top" what marks the Skee-Ball brand's 115th year.
"For the last 115 years, original Skee-Ball® alleys have connected generations, providing simple fun for a lifetime of shared playful memories. But what we've found, is those memories vary vastly from person to person," said Lance Treankler, Brand Director. "For someone, the Skee-Ball® brand brings to life the sights, sounds, and smells of the 1920's boardwalk. For another, it comes with the childlike wonder of a birthday party at their local arcade."
That personal connection, that nostalgia, connects us all. It invites grandparents and small children alike to step up for a game, it creates a shared experience and inspires multi-generational storytelling. It's a game that brings people together. And Skee-Ball® are honored to be recognized in the Amusement industry.
Alongside Skee-Ball, there were 31 individuals and six products or games that were given the honor of being inducted into the inaugural Hall of Fame class.
Entities (Products or Games)
Skee-Ball
The Wurlitzer 1015 Jukebox
Donkey Kong by Nintendo,
Space Invaders by Taito
Pac-Man by Namco
The TouchTunes Jukebox
Legacy Inductees
David Rockola – Founder of Rockola Jukeboxes
Harry Williams – Founder of Williams Mfg.
Bill O'Donnell, Sr. – President of Bally Manufacturing
Hank Ross – Co-Founder of Midway Manufacturing
Marcine "Iggy" Wolverton – Co-Founder of Midway Manufacturing
JP Seeburg – Founder of Seeburg Juke Boxes
Lynn Durant – Founder of United Manufacturing
Michael Kogan – Founder of Taito
Ray Maloney – Founder of Lion Manufacturing, which became Bally Manufacturing
George Miller – Founder of the AMOA
Marty Bromley – Co-Founder of Sega
Ralph Coppola – Founder of Innovative Concepts in Entertainment
Dave Corriveau, Co-Founder of Dave and Buster's
Buster Corley, Co-Founder of Dave and Buster's
Joe Robbins – Executive with Empire Distributing, Atari, and a Co-Founder of the AAMA
David Gottlieb – Founder of Gottlieb Pinball
Chuck Milhem – President of Valley Mfg. Co. and Founder of the VNEA
Earl Feddick – Founder of Valley Pool Tables
Masaya Nakamura – Founder of NAMCO and the leader of the company when PAC-MAN was introduced
Sam Stern – Co-owner of Williams Electronics and Founder of Stern Electronics
Humbert "Bert" Betti – Founder of H. Betti Industries
HOF Inductees
David Rosen – Co-Founder of Sega
Jules Millman – Creator of the Mall Arcade with Aladdin's Castle
Eddie Adlum – Founder of RePlay Magazine
Gary Stern – Co-Founder of Data East Pinball and Stern Pinball and Co-Founder of the AAMA
Nolan Bushnell – Founder of Atari, Chuck-e-Cheese and Sente
Elaine Hodgson – Co-Founder of Incredible Technologies
Richard Ditton – Co-Founder of Incredible Technologies
Eugene Jarvis – Creator of some of the best video games ever made while a game designer with Williams Electronics, and founder of Raw Thrills.
Joe Kaminkow – Game Design Engineer with Williams Electronics and Co-Founder of Data East Pinball, which became Sega Pinball, and the man singularly responsible for the permanent return of licensing pop-culture movies, plays, and musical acts for amusement games.
Malcolm Steinberg – Founder of LAI Games, Embed, and Time Zone Family Amusement Centers